---

__________________________________________________________________________________________________________________________________________
What is Maryhaven? Maryhaven is a home; it's a support system, a community and most importantly, a place where people with special needs are afforded unique opportunities so they can live their best life, for life.
We invite you to become Maryhaven's Philanthropic Partner so that together, we enrich the lives of people with disabilities through opportunities.
For the past 94 years, Maryhaven has been a leading provider of compassionate support for Long Islanders with special needs. Annually, Maryhaven provides residential and day habilitation services and training and employment services to more than 700 adults.
Philanthropy is an essential component of our work. It impacts every aspect of our mission to enrich the lives of people with special needs.
This past year, we began renovations for 26 locations including our Terryville Day Habilitation gymnasium and life skills classroom in Port Jefferson Station.
The Integrated Business Center (IBC) has secured employment opportunities with companies like DRI*MARK Products, Inc., and the Tap Room Restaurant. The Porter Maintenance program has expanded working in the community at various locations including local firehouses and businesses. To better understand the impact our vocational and employment programs have on the 200+ people supported, we would like you to meet Brian.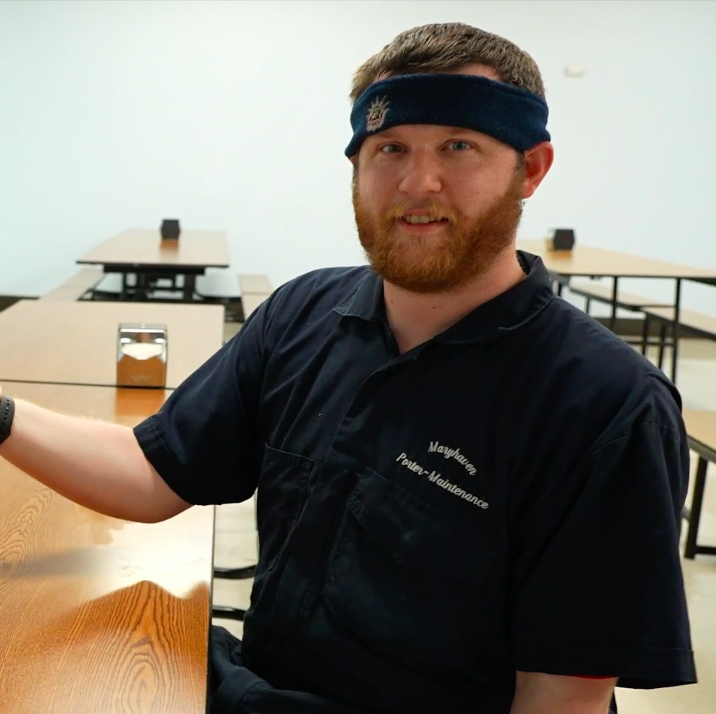 Brian came to Maryhaven in 2017 when his mom, Cathy, learned about the pre-vocational program. When he started the training program he was shy and would not express himself. He had few friends and wanted more out of life.
Today, Brian has obtained a job working for Maryhaven's Porter Maintenance program. Because of this opportunity, he works in the community, earns a paycheck and has overcome his shyness. He loves his co-workers who are now his friends and he states that the best part of working is earning a paycheck.
We could not impact the lives of people like Brian without philanthropic support.
This Holiday season, we humbly ask that you become a Maryhaven Philanthropic Partner so that we can continue to offer opportunities to people with special needs. For first-time donors, you can be assured that your gift will make a real, lasting and worthwhile difference! We thank our returning donors and ask that you give whatever you are able.
We wish you and your loved ones many blessings this Holiday season!
Become a Philanthropic Partner
__________________________________________________________________________________________________________________________________________